Source: www.uchealth.org | Jan. 25, 2021
Can stem cell transplants help to repair damaged knee tissue?
A transplant of stem cells to a patient's badly injured knee suggested their power to rejuvenate damaged cartilage. A trial underway at UCHealth is putting the idea to the scientific test.

Jonathan Gray in action on the rugby field. Photo courtesy of Jonathan Gray.
In June 2018, Jonathan Gray left the field after a USA Rugby Club Championship match at Infinity Park in Glendale, Colorado with an unwelcome companion: severe pain in his left knee.
The discomfort was as emotional as it was physical. Gray loved rugby. Now 41, he had been a top-level player since his high school days in Seattle. He was a two-time All-American at the University of Arizona and regularly competed after graduation overseas and on United States club teams.
Gray was no stranger to injuries he sustained playing the high-contact sport. The list includes a dislocated collarbone, broken ribs and fingers, lacerations, and a badly torn hamstring. But the knee injury had slowed his game since 2014. The 2018 pain ultimately forced him off the field for a year and a half – and threatened his ability to play rugby again.

Jonathan Gray plays in the rain, supported by the left knee that Dr. Jason Dragoo repaired with surgery stem cells transplanted from Gray's stomach. Photo courtesy of Jonathan Gray.
"The injury had been a sticking point," Gray said. "When I came out low, made a hard cut or squatted, the pain was unbearable. It held me back for a long time."
Steadily worsening knee pain
The problem was badly damaged cartilage in the knee that forced pressure on his femur (thighbone). The result: a hairline fracture and a bone bruise. Gray tried a battery of treatments to ease the pain: cortisone shots, plasma-rich platelet injections, lubricating gel, "massive" physical therapy, massage, and transcutaneous electrical nerve stimulation – all to no avail.
"Nothing seemed to work," Gray said.
As the pain worsened, he had to ease his way down the stairs sideways. If he took a wrong step or tripped, the leg gave out.
"It was like a knife went through it," Gray recalled.
A much-studied question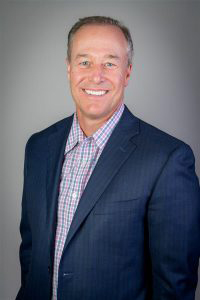 Dragoo said the clinical foundations for the trial stretch back to his residency in orthopedics at UCLA Medical Center, where he was part of a team that discovered MSCs within adipose (fat) tissue. He and his colleagues began studying how they might be useful in treating musculoskeletal disease. That work led to examinations of the fat pad – a heretofore poorly understand part of the anatomy – that yielded an important finding. The pad, it turned out, contains "huge numbers" of MSCs, Dragoo said.
With this new knowledge in mind, Dragoo said he and others looked at cartilage damage in the knee from a surgical perspective. They noticed that the fat pad grew around injured areas.
"We saw the body's response, which was to grow local tissue over the injury," Dragoo said.
That observation suggested the healing power of MSCs in the fat pad. But the fat pad contains a variety of cells. How to harness the regenerative cells for surgery?
"We realized that MSCs are not necessarily accessible to the joint without freeing them up," Dragoo said. While at Stanford University Medical Center, he and a colleague described a method for harvesting and processing stem cells from the fat pad so they could be used in regenerative procedures.
A subsequent trial demonstrated that the processed cells could be used to heal cartilage damage in animals, setting the stage for the current clinical trial of human osteoarthritis patients.